Pakistan heatwave death toll climbs above 1,000
Comments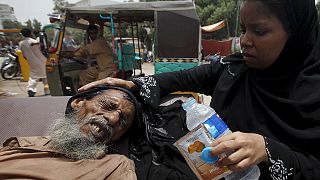 The heatwave which has struck southern Pakistan has now claimed more than 1,000 lives – most of them believed to be among the poor, as well as the elderly.
The worst of the problems are in the sweltering metropolis of Karachi with its 20 million inhabitants.
The figures for the number of dead come from hospitals, but a main charity closely involved believes people dying at home or in private clinics could push the toll higher.
Temperatures have dropped from a peak approaching 45 degrees Celsius last weekend to the mid-thirties.
"Compared to previous days, when breathing was difficult, the weather in Karachi is better. The temperature is lower, the wind is blowing and the sky is cloudy. Hopefully rain will also come," said Karachi resident Wakil Ahmed.
The heatwave's impact has been aggravated by repeated power cuts and the Muslim month of Ramadan. Pakistani law forbids eating or drinking in public during the day.
Several religious figures have called on the most vulnerable not to fast, saying the Koran allows that in extreme circumstances.