Mother and baby survive plane crash and five days in the jungle
Comments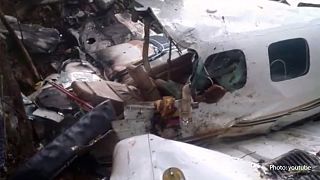 A woman and her one-year-old baby boy have been found alive in the Colombian jungle five days after their plane crashed.
Their twin-engine Cessna went down between Quibdo and Nuqui in the western Alto Baudo region of the country on Saturday. Rescuers located the plane on Monday to find the pilot dead in his seat but there was no sign of the passengers. After a three-day, 14-man hunt in the jungle they finally found 18-year-old Maria Nelly Murillo and her infant son. The baby was said to be in good health, while his mother had suffered some injuries and burns. They were airlifted to hospital in Quibdo.
Murillo told her rescuers she had survived by eating coconuts that had been on the plane and drinking stream water and had walked away from the plane wreck for fear it would explode.
"It is a miracle! It is a very wild area and the accident was catastrophic. The mother's spirit must have given her baby strength," said Colonel Héctor Carrascal of the Colombian Air Force, which led the rescue effort.