Rosetta space mission extended, ESA announces
Comments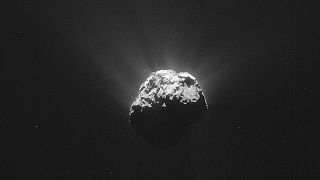 The European Space Agency has extended its Rosetta mission for nine months, the maximum possible duration until the craft will be running out of fuel and too far from the sun for solar panels to work effectively.
The mission, which began with a 2004 launch, will now last until September 2016 . For the final three months, Rosetta will be brought closer and closer to the comet it is orbitting with a view to landing on the surface.
"This time, as we're riding along next to the comet, the most logical way to end the mission is to set Rosetta down on the surface," said Patrick Martin, Rosetta Mission Manager.
The extension of the mission will help scientists gain more detailed observations as the comet comes back away from the sun and see how its composition changes. It may also allow them to identify exactly where the Philae lander, deployed by Rosetta last year, is situated on the surface of comet 67P/Churyumov-Gerasimenko.
Philae awoke from seven months of hibernation earlier this month and began sending data back to earth.
Rosetta was launched in 2004 and arrived at the comet in August 2014 to begin following it in its orbit of the sun.