Protests against higher energy prices spread in Armenia
Comments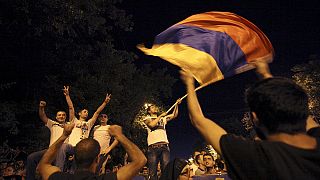 Anger is growing across Armenia against police handling of protests which began earlier in the week against a major hike in energy prices.
On Wednesday demonstraters began forming street barricades in the capital Yerevan. Some of them, mainly young activists have occupied a street near the presidential palace.
One protester said a rise in electricity tariffs will affect everything -" higher food prices, everything"
Armenia's electricity network is owned by a Russian company, which says the rise is necessary because of a fall in the value of the national currency.
Over the past few days riot police have been accused of using strong arm tactics to disperse the crowds, making dozens of arrests.
"The events of the past 24 hours showed that the police need only a pretext to use force. In the situation where social issues are raised its quite unacceptable," complained one man.
The decision to increase electricity prices by 22 percent has raised social tensions in the cash-strapped country. However there are rumours the president may intervene.