Armenian energy protests turn ugly with dozens of arrests
Comments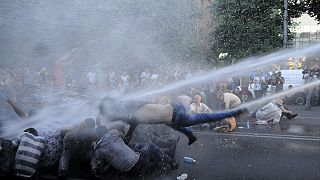 Protests in Armenia deteriorated for a second day into clashes with the police as thousands of demonstrators marched in front of the Presidential Palace in Yerevan.
There is anger across the county at the state's regulatory commission's decision to increase the price of electricity by 22 percent from August 1.
On Tuesday (June 23) around 200 protesters were arrested.
"We will continue protesting of course," said one man. "They cannot make us be afraid by beating us . It is not the first time that we've been beaten in the streets by the police. Just this time they were particularly brutal towards us, I don t know why."
An emotional elderly lady said she was there to defend the protesters from the police:
"I won't let these hooligans touch these young men, or lay a finger on my children. I 'm here to stop them otherwise I wouldn't have come as I'm not strong enough."
Nearly 240 detained in #Armenia after protests over price hikes http://t.co/7TMHFJHqfdpic.twitter.com/0gs2OOd3CP

— th anonymous (@ori_no_co) June 23, 2015
With several thousand demonstrators on the move riot police used water cannon to disperse the crowds.
Armenia has been hit hard by the downturn in Russia which has triggered job losses and lower wages in the former Soviet Republic. Activists are warning of social conflict as economic tensions rise.
The Russian company which owns Armenia's electricity network says the price rise is necessary because of a fall in the value of the country's currency,
Moscow is thought to monitoring the situation in the impoverished neighbour which hosts a Russian military base and is part of a Moscow -dominated economic alliance.