Baku European Games: Day 11 Highlights
Comments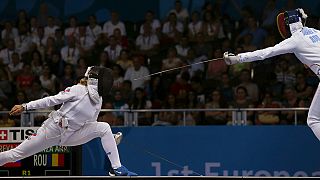 Romania's Ana Maria Branza won her country's first gold medal as she artfully fought her way to victory over Russia's Yana Zvereva in the women's epee final on the eleventh day of competition at the Baku European Games.
Olympic silver medallist Branza initially struggled to get an edge over Zvereva as the two exchanged points in a heated first period where the scores were tied 4-4 and in the second period where the scores changed to 10-9 in Zvereva's favour.
But the Russian did not anticipate the strength of Branza's composed late comeback which saw her steadily launch a series of counterattacks in the third period to increase her points from nine to 15, snatching both the lead and the title from Zvereva's grasp to eventually take the gold 15-11.
"It has been a long day and I have had some great matches. This is historic for me because my name with be there as champion for years and years," said Branza. "It was tough but it was my day today."
"At the start of the day I just wanted to get on the podium but from the last four, it is a new competition. I felt relaxed at the end. I always feel relaxed under pressure."
Zvereva later admitted that the reason for her defeat was down to her inability to adapt to Branza's change in tactics.
"This is a very unexpected result for me. I did not expect that I would fence that well," said Zvereva after her performance. "I was not thinking about a medal. My only goal was to win each bout."
"This my most important individual medal so far. In the end, my opponent changed her tactics and I was not able to keep the right distance."
The bronze medals went to Branza's team mate Simona Gherman and Estonia's Erika Kirpou who both lost their respective semifinal matches to the gold and silver medallists.
Britannia rules the waves
Meanwhile, Great Britain impressed on the opening night of the swimming events by claiming three of the seven available gold medals at the Baku Aquatics Centre.
Abbie Wood took gold for Great Britain in the women's 400 metres individual medley after a strong start which saw her briefly take the lead, although she slipped into third after the backstroke. But a fast breaststroke leg then enabled her to regain the top spot to finish in a time of four minutes 41.97 seconds.
"It's my first European medal and I'm so excited. It's just surreal," Wood told reporters. "I can't believe it. I didn't expect it. I was hurting so much after my heats and I never normally qualify fastest, which made me even more nervous.
Wood's time was over two seconds faster than that of Italy's silver medallist Ilaria Cusinato and almost four seconds faster than that of bronze medallist Anja Crevar of Serbia.
Great Britain's success in the pool continued with Holly Hibbot taking the title in the women's 800 metres freestyle shortly after.
European junior championships silver medallist Hibbot stayed with the race leaders for the majority of final and it was only in the last 80 metres that she increased her speed to power past Russia's Anastasiia Kirpichnikova to set a new Games record of eight minutes 39.02 seconds and take the win.
"I couldn't see her as she was in the outside lane, but I was just trying to keep up with her (Kirpichinikova)," she said. "It was hard. I just didn't want her to pip me."
Marina Castro Atalya clocked a 8:45.51 for the bronze.
The last gold of the session for Britain came in the men's 4×100 metres freestyle relay final, where the quartet of Duncan Scott, Martyn Walton, Daniel Speers and Cameron Kurle saw off the Italians in a closely contested which came down to the final moments of the race.
The Italians finished 0.81 seconds behind the Brits, who touched in three minutes 19.38 seconds, for the silver, while Russia finished marginally behind in 3:20.22 for the bronze.