Defence: US to boost its military presence in Central and Eastern Europe
Comments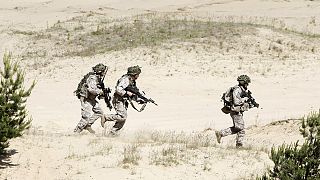 The US has announced plans to deploy heavy weaponry in several Central and Eastern European nations.
Officials say they want to calm concerns among NATO allies who feel threatened by a resurgent Russia.
​US Defence Secretary Ashton Carter commented on the decision on a visit to the Estonian capital, Tallin: "Unfortunately we had to spend time talking about Russia's recent attempts to turn back the clock in Europe, especially here in the Baltic region."​
Officials in Moscow have been quoted as saying the decision is the most aggressive action by the US since the end of the Cold War.
"We are not talking about entering into a new Cold War type of arms race, we are not trying collectively to match Putin, I mean, tank by tank or helicopter by helicopter in the Baltic sea region either," said Estonian Defence Minister Sven Mikser.
Equipment will be sited in Estonia, Lithuania and Latvia as well as Bulgaria, Romania and Poland. Some will also be based in Germany.
NATO has stepped up exercises in the region in the wake of Russia's annexation of Crimea in 2014.