Five facts to know about European defence spending
Comments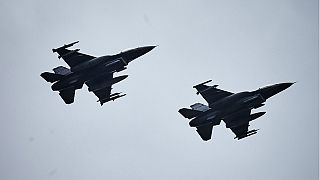 NATO has just released extremely-detailed figures on its members' spending on defence.
To save you getting drowned in the depth of the data, we've picked out five facts that have emerged from the figures.




Former communist states buck European trend of reducing defence spending

Russia's intervention over Ukraine has put NATO allies near its border on edge, with some, such as Estonia, fearing Moscow will use its large Russian minority to destablise the country.

And if NATO's figures on defence spending are anything to go by, Tallinn is not the only one worried.

Only six of NATO's 28 members increased their defence budgets from 2010 and 2015, according to the alliance's figures.

If we discount Luxembourg, that leaves Latvia, Lithuania, Poland, Estonia and Romania as the other five.

All of the latter were former Communist states and would have reason to fear Russian aggression.

Poland upped its budget from $8.5bn (7.58bn euros) in 2010 to an estimated $10.3bn (9.18bn euros) in 2015. To put this in perspective NATO's European members combined spending on defence dropped from $275bn (245bn euros) to $252bn (224bn euros) over the same period, more of which below.

---

Europe defence spending reductions have slowed since Ukraine crisis

Russia and the EU is in the midst of a diplomatic and trade tit-for-tat exchange over the Ukraine crisis.

But how has this souring in relations affected spending on defence?

It is perhaps too early to conclude. But Russian spending, according to estimates by Stockholm International Peace Research Institute, jumped from $84.8bn (75.7bn euros) in 2013, when the Ukraine crisis flared up, to $91.7bn (81.8bn euros) in 2014. It was $65.8bn (58.8bn euros) in 2010.

NATO's Europe contingent, as we saw above, have reduced defence spending from $275bn to $252bn over the five years to 2015. But the pace of reductions has slowed in the last year, dropping just a $1bn in the last year, compared with a $10bn drop between 2010 and 2011.

---

Crisis, what crisis? Greece employs highest proportion of workers in military

Hundreds of thousands of Greek public sector workers have been dismissed in recent years as Athens has sought to cut its expenditure.

It's clear from the NATO figures that those employed in the Greek armed forces – both civilian and military personnel – have not escaped the cull.

Yet 2.3 percent of Greece's labour force is employed in the armed services, the highest proportion out of all 28 NATO members.

Greece's ministry of defence employs around 87,000 staff, while its armed forces has 106,000 people, according to NATO figures. Nearly two-thirds of its military spending is on personnel costs.

And Greece is second only to the United States in terms of spending as a proportion of its GDP – 2.4 percent, compared to 3.6 percent on the other side of the Atlantic. The European average is 1.4 percent.

That said, Greece has reduced its overall defence spending, from around $7.9bn (7.1bn euros) in 2010, to an estimated $4.9bn (4.4bn euros) in 2015.

---

Hardly anyone is taking notice of

NATO

guidelines – so far

At last September's NATO summit in Wales – which came at the height of the Ukraine conflict – it was decided members should spend at least two percent of their GDP on defence.

For those countries under this target, it was agreed they would move towards two percent within the next decade.

While it is still early days just five NATO members – Estonia, Greece, Poland, the UK and US – spend more than two percent of their GDP on defence.

The US is the biggest spender by this indicator at 3.6 percent, while Luxembourg, Belgium, Spain, Italy and Hungary all spend under one percent.

---

Only a quarter of

NATO

members meet new equipment spending guidelines

At the same NATO summit in Wales, members also agreed to spend 20 percent of their military expenditure on "major equipment".

Yet, of NATO's 28 members, only a quarter – the US, UK, Turkey, Poland, Norway, Luxembourg and France – spent more than one-fifth of spending on equipment in 2015, according to estimates.

The figures suggest Slovenia's 7,000 strong army is not particularly well-equipped. It spent just 0.8 percent of its budget on equipment in 2015. It was a similar picture for the three previous years after Ljubljana's spending spree in 2011, when 5.7 percent of its budget went on making sure its soldiers had the tools for the job.