Training key to reducing police killings across USA
Comments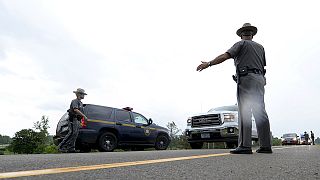 In the United States, training new police recruits and veterans to hold their fire and give life a chance has moved up the national agenda.
Las Vegas is the first department to complete a "collaborative reform". The resort city had a record high of 25 police shooting fatalities in 2010. Last year, they were down to 16.
The use of deadly force in Ferguson, Missouri last year, in Cleveland, and in New York and Baltimore amplified calls to review officer response. Experts say too many law enforcers are under-trained.
Vegas is now giving its use-of-force rules more thought.
Vegas Metro Police Department Captain Matt McCarthy said: "Can you shoot? Well, most likely yes, if it meets the parameters of deadly force. But then an organisation should also ask a second question: 'Should you shoot?'"
A Vegas officer shot dead an unarmed, mentally ill army veteran named Stanley Gibson in 2011. Over the years, the force established a trend of lawsuit settlements for wrongful killings, paying out millions of dollars. Gibson was cornered by patrol cars, then refused to get out of his own vehicle.
Larry Krantz, a witness to the 2011 police shooting, said: "They kept saying: 'Get out with your hands up!', but the guy was scared to death. They could have maybe had a little more patience, I believe."
So far, this year, Vegas Metro police have shot three people, one fatally.
This department was the first to be reviewed, then Philadelphia, Baltimore, Spokane, Washington and others.
In the re-training test ground, some critics have said a review of practices ordered by the Washington Justice authorities does not go far enough, but others suggest it is a constructive beginning.
William Sousa, Director of the Center for Crime and Justice Policy at the University of Nevada, Las Vegas, said: "What we've seen in Las Vegas is similar to what we've seen in other places, that policies make a difference in terms of reducing officer-involved shootings and training makes a difference in terms of reducing officer-involved shootings."
Surveys have found that many police departments stress firearm skills at the expense of conflict management and mediation, and that fatal shooting incident reports have often been neglected in developing reality-based training.