Baku European Games: Day 9 Highlights
Comments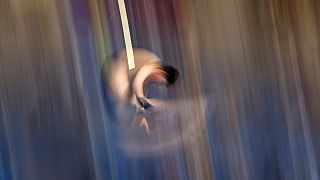 Great Britain won double honours on the ninth day of competition at the Baku European Games as Matthew Lee took gold in the men's 10 metre platform final while Katherine Torrance also took a gold in the women's three metre springboard.
Lee had qualified in second for the final behind Russia's Nikita Shleikher, the European Games champion in the one metre springboard, but established a strong lead early on with a score of 86.40 points for his first two dives and a 81.00 in his third to finish with a total of 588.25 after two more solid dives.
The Briton's fifth and final dive turned out to be decisive in winning the gold medal as Shleikher struggled to respond to Lee's 78.20 points in the reverse 3.5 somersaults tucked, the Russian only scoring a lower tally of 59.50 in comparison.
"I am really happy. It is the most consistent I have ever dived before in my life," said a jubilant Lee. "I think it's because I have had so much experience in the senior ranks international circuit over the last couple of years."
"Getting all that experience has made me realise how I belong on the senior circuit and therefore, hopefully, I should be top of the junior circuit.
"The Russians are obviously very, very good. Normally they are at the top and I knew the pressure was on. I don't know how I coped with it but I did and luckily I got gold."
Shleikher was only 31.7 points behind the Briton and claimed the silver with 556.55, while France's Alexis Jandard's effort of 526.20 was enough for the bronze.
Earlier, Lee's team mate Torrance secured further success for Great Briton with a victory in the women's three metre springboard title by defeating Russia's Ekaterina Nekrasova and Germany's Saskia Ottinghaus.
By opting to start with her highest difficulty dive and executing it near flawlessly, Torrance claimed the early lead. She then consolidated it by never averaging lower than 7.3 points for her remaining three dives to put her total at 488.25, enabling her to take the win.
"I don't like the pressure but it clearly does good things to me," Torrance said. "Winning a gold means everything. If you can do it here you can do it wherever and it gives me a lot of confidence. It is a step in the right direction."
Nekrasova, however, came very close to upsetting the British celebratory tea party after she made great gains in her final dives to finish on a 443.05 for the silver while Ottinghaus finished on a 418.35 for the bronze.
The two golds meant that Great Britain beat Russia to sit at the top of the diving medals table.
Latvia deliver
Elsewhere, Lativan pair Martins Plavins and Haralds Regza who were tournament partners just for the duration of the Games, won their country's first gold medal in the men's beach volleyball final.
Plavins, the London Olympic bronze medallist, played impressively with new team mate Regza to beat Russia's Dimtry Barsouk and Yarosloav Koshkarev 2-1 in a closely contested match which saw Russia briefly draw level in the second set before being dominated by the more experience side i the third set.
"He (Regza) is still OK," said Plavins of his compatriot. "For sure, he is better, he played very well in the third set."
"For now it is perfect. If we played one more tournament maybe not, we would come third or fourth but for now it is perfect.
"In the final you don't want too many tactics, the most important is just serve and side-out (winning points on the opponent's serve) and we did those well which is why we won."
The bronze medal match match was won by Czech Republic duo Premysl Kubala and Jan Hadrada.