7 things we found out at the Paris Air Show 2015
Comments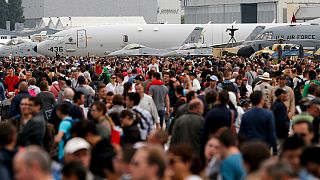 The 51st edition of the biannual Paris Air Show has closed its gates to a record number of visitors. Some 351,000 people – from the aerospace business and the general public – took to the tarmac of Le Bourget airport, an 11% increase on the attendance in 2013. Here are seven things we've learned from the last seven days.
Airbus pipped Boeing in the unofficial 'Orders Race'
It's one of the questions that gets asked the most during the industry days at the Air Show: who will get more orders for aircraft, Airbus or Boeing? This year, as in 2013, it was Airbus. The France-based group clocked up 421 orders and commitments worth $57 billion, compared to Boeing's 331 aircraft orders worth $50.2 billion. What may perhaps console the American manufacturer is the sale of more larger, more expensive wide-body planes which gives it a higher dollars to order ratio.
The A380 is still a plane for the future rather than a plane for the now
Of Airbus' 421 orders, zero were for its huge, double-decker A380. You have to go back to last year for the last A380 sale but Airbus executives are still confident in what they see as a sleeping giant. COO John Leahy insists that growing demand for air travel (+5% per year) cannot be met by simply putting more planes in the air. The only alternative, he believes, is to put bigger planes in the air. Indeed Airbus talked at the show of stretching the A380, already the world's biggest passenger plane. In a telling sign of the difference of opinion and strategy between Airbus and Boeing, Airbus forecasts a need for 1,550 Very Large Aircraft over the next twenty years, almost triple the number Boeing forecasts. Fabrice Brégier, Airbus' CEO, has claimed slow A380 orders are in part due to the fact that the super jumbo was launched too early and that the market is not yet ready for it.
Bombardier leaves empty-handed despite CSeries debuts
Canadian plane-maker Bombardier was able, at last, to show off its CSeries aircraft for the first time. The CS100 and CS300 are the new entrants into the 100 to 160-passenger plane market but have arrived two years late and over budget. Some orders for them at Le Bourget would have been nice, but none came. It's not the end of the world for Bombardier; orders can come in all year round, not just in Paris. And they were able to showcase what is an aesthetically pleasing plane both inside and out.
8 minutes of #IngenuityinFlight! #CS300 performing at #PAS15pic.twitter.com/QjcKJOYAm6

— Commercial Aircraft (@BBD_Aircraft) 15 Juin 2015
The electric revolution has got off the ground
We now have an all-electric aircraft. It's only the start of what will be a long road but there now exists a 'plug in' plane capable of carrying two passengers and flying for one hour. The E-Fan 2.0 developed by Airbus will mainly be used for pilot training but a four-seater will follow within a few years and an all-electric 100-seater passenger jet (if we can still call it a jet?) could be in the skies by the second half of this century. This would be a huge step towards meeting emission reduction targets.
Acrobatic formation displays are still the darlings of air shows
The A380, Boeing 787 and Rafale flight demonstrations received plenty of oohs and ahhs but the loudest applause went to the display put on by the eight Alphajets of the Patrouille de France. They danced themselves into compact formations that adopted the shapes of France's favourite planes (Concord, Rafale, Mirage…), trailing tricolore smoke behind them. There's still something about these displays that captures the imagination.
Boeing take-off carries away viral video honours
Perhaps the most shared video of the Air Show was the seemingly 'near-vertical' take-off performed by the Boeing 787-9 Dreamliner destined to fly for Vietnam Airlines. The operative word there is 'seemingly', as those watching from Le Bourget saw a take-off that was steep, certainly, but nowhere near vertical. Hats off though to the cameraman (or camera drone) that captured a great perspective shot.
Congestion still a bit of a nightmare for visitors
Few people had any complaints about the weather this year at Le Bourget. Save for a few hours of light drizzle during the week, conditions were great to watch planes. But there were very few people who had anything good to say about the traffic. That goes for the industry visitors, general public and even the taxi and shuttle bus drivers themselves. "Every damned year it's the same old story," lamented one taxi driver. "Typical French indiscipline, form a line! Oi, you! Get in line like everyone else. I hate this sh**ty country sometimes," complained a father of three (himself French). OK there are lots of people to transport from the hotels, train stations and airport terminals at Roissy Charles de Gaulle, but it should not take you more than two hours to complete a 15km motorway journey for a pre-planned event of this magnitude.