Light, quiet and emission free: the 'plug-in plane' flying at the Paris Air Show
Comments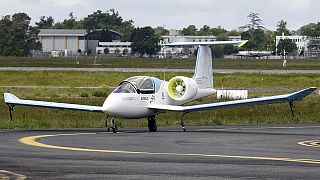 A prototype electric two-seater aircraft hailed as the future of flying will take part in the aerial display at the Paris Air Show to be held at Le Bourget next week.
The E-Fan 2.0, developed by Airbus subsidiary VoltAir, weighs less than half a ton and can fly for one hour at a speed of up to 218 km/h. Using lithium-ion batteries located in its 9.4 metre wings and two 30 kilowatt electric motors, operating it will be free of CO2 emissions and the plane will be almost completely silent in flight.
All-electric flight is at the start of a long journey but the E-Fan 2.0 is scheduled to be in service by late 2017 or early 2018. A four-seater version, the E-Fan 4.0, could then be rolled out in 2019. The production site will be located in Pau, south-west France.
Initially, the E-Fan 2.0 is to be used for training pilots. However the longer-term plan is to 100-seater regional planes that are all-electric, although we will have to wait until the second half of this century before we can start using plug-in planes of such size.
The project, in which Airbus is investing 20 million euros, is an early step towards fulfilling the European Commission's 2050 targets which include a 75% CO2 emissions reduction per passenger kilometre, 90% Nitrogen Oxide emission reductions and a 65% reduction in noise.
Visitors to the Paris Air Show will be able to see the E-Fan prototype in action in the skies as well as a model of the production version in the Airbus exhibition zone.
VIDEO: from concept to the skies, the Airbus E-Fan electric plane