Olympic champion fails doping test two years late
Comments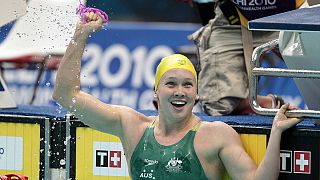 Australian Olympic swimming champion Kylie Palmer has failed a doping test from two years ago, Swimming Australia announced Thursday.
The 2008 Beijing Olympic and 2010 Commonwealth Games champion was due to compete at the FINA World Championships in Russia later this year but has since withdrawn from the Australian national team, accepting the provisional ban for the doping violation.
The alleged adverse analytical finding came from a test she took at the 2013 FINA Worlds in Barcelona, where she won a silver medal in the 4×200 metres freestyle relay along with team mates Bronte Barratt, Brittany Elmslie and Alicia Coutts.
Insiders believe the substance found in Palmer's system was Furosemide, a drug which comes under the category of diuretics and masking agents and carries a maximum sentence of a two year suspension.
Any formal suspension would also see the entire 2013 world championship relay be disqualified and all four swimmers stripped of their medals.
It has also emerged that FINA, swimming's world governing body, had decided not to pursue the incident in July 2013 because the levels of the substance detected in her "A" sample was so low, and two additional tests conducted from July 25 to August 1 both came back negative.
To make matters more baffling, however, subsequent testing of Palmer's "B" sample did provide traces of a banned substance.
The provisional ban was handed to Palmer by FINA at the insistence of the World Anti-Doping Agency.
WADA's reasons for this are still unknown, although it is suspected that their move is an attempt to crack-down on FINA who, in recent months, have not been adhering to the anti-doping code as strictly as they could.
Palmer has categorically denied ever knowingly taking any banned substances but admitted that it would be "almost impossible" to know if she had taken anything unknowingly, the 20 month delay also rendering the case extremely difficult for Palmer to defend.
Palmer's legal team have started preparing her defence, though a tribunal hearing date is yet to be set.