Greece's ambulance service in need of a lifeline
Comments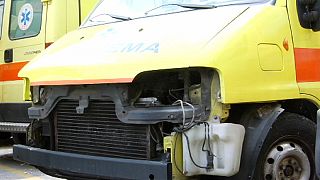 Though Greece's economic health may be stealing the headlines, the national health service itself is crumbling under the strain of austerity.
They have reached a crunch point.
Ambulance workers have been threatening to strike over unpaid overtime, with claims they have not received payments for night shifts and holidays since December, meaning they have 200-500 euros less every month.
"We have shown endurance for quite a long time," said Ambulance worker Tassos Anastasatos. "We understand the severity of the situation but you know that our colleagues are people with obligations, they pay their debts, and therefore they have reached a crunch point."
In the last five years health spending has been slashed in half.
Ambulances lying in disrepair are a stark reminder of the cuts, the Head of the Ambulance Staff Union Georgios Mathiopoulos told euronews that in the central car park, there are 50 ambulances that are out of order due to damage. Many have serious repairs needed to the engines, and others have smaller repairs that could easily fixed but due to lack of funding they cannot be used as part of the fleet.
The health service is in desperate need of cash injection. Euronews correspondent in Athens Symela Touchtidou reports that, "The state has promised to cover part of the arrears. Ambulance staff have suspended their strike as they do not want to endanger public health especially with the pressure posed by the tourist season. For now they are waiting for a clear answer."