Denmark: right-wing Danish People's Party makes huge gains in election
Comments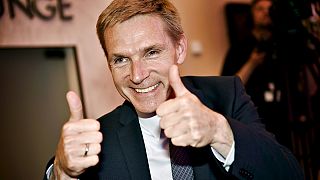 The right-wing Danish People's Party has made huge gains in the country's general election.
It is part of a "blue bloc" of conservatives that has secured a slender victory over the ruling centre-left coalition.
"I'm really surprised about this result. We are probably not doing as well in the big cities, but no matter what, this is a marvellous result for the Danish People's Party," said Kristian Thulesen Dahl, Danish People's Party Chairman.
With all mainland votes counted, the centre-right has won 90 seats in parliament, the ruling bloc 85.
Conceding defeat, Prime Minister Helle Thorning-Schmidt has quit as leader of the Social Democrats.
She said that it is now up to opposition leader Lars Lokke Rasmussen to form a new government.
"I wish him the best of luck," said Thorning-Schmidt.
Rasmussen says he will try to form a new government. But he is likely to have to make big concessions to ensure support from the Danish People's Party, which ended up with more votes than his Liberal Party.
The coalition building could take days, or even weeks.