Eurogroup ministers meet as Greece's future hangs in the balance
Comments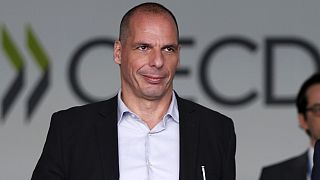 Eurozone finance minister meet in Luxembourg with the agenda dominated by the Greek financial crisis.
But with a last ditch attempt by Austrian mediation to end the standoff between Athens and its international lenders resulting in failure, even Greece's Finance Minister Yanis Varoufakis is pesimistic about the outcome.
When asked if he thought a deal could emerge from the Luxembourg gathering , his answer was unequivocal
"I do not believe so. Eurogroup meetings are not designed to stage fresh conversations that have not been prepared in advance. I do not believe this preparation has taken place and also it's my considered opinion that now the agreement has to be reached at a level of political leaders, heads of state, prime ministers, chancellors," said Varoufakis.
But with Greece refusing to accept austerity cuts in return for bailout funds, patience among its eurozone partners is at breaking point as Eurogroup President Jeroen Dijsselbloem explained:
:
"It's up to the Greeks to present a number of alternatives. Everything they don't want, they have made abundantly clear. That means they will have to present other alternative proposals – "we are still waiting for that. so long as we don't have those, we cannot complete the deal."
And if no deal is reached with Greece's political partners the European Central Bank has also added its warning saying that without one it will not be able to provide financial help.
Greece has until the end of June to find a way out of the impasse before it faces a 1.6 billion euro repayment due to the International Monetary Fund (IMF) , potentially leaving it bankrupt and teetering on the edge of the eurozone.
Syriza party supporters were out in force on Wednesday. They 'd elected the Greek government to voice their pain over years of recession and are still hoping a compromise can be achieved.
Our Reporter in Athens Panos Kitsikopoulos said:
"Every step back to the lenders' demands means many steps back for democracy. That's what most of the people here say. Greece has paid quite high a price for the crisis. But, as negotiations are balancing on a ledge, it seems that there's no alternative for Greece if its to remain in the eurozone other than reaching a deal with its partners."
DTNUSA: Greek government supporters rally in Athens against austerity: ATHENS (Reuters) – A few thousand demo… http://t.co/WpWvCor66B

—

DTN

USA

(@DTNUSA) June 17, 2015