Miss Renzi tucks in, French minister makes a Royale apology
Comments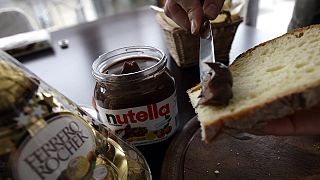 After France's environment minister called on people to stop eating a certain chocolate spread to save the rainforests, the wife of Italy's prime minister, Agnese Renzi took her daughter to the Milan expo to feast on the forbidden fancy, in public.
Makers Ferrero is one of Italy's flagship companies.
"What is important to keep in mind is that when Ferrero uses palm oil for its products it does so while respecting the environment and the populations and several NGOs have praised us, including WWF and Greenpeace, for the veracity and authenticity of our commitments," said Ferrero's Christophe Bordin.
The French minister concerned Segolene Royale has already apologised for her remarks, dismaying some who were cheered by her public criticism of the firm's flagship product which has been criticised on health and environmental grounds.