Baku European Games: Day 3 Highlights
Comments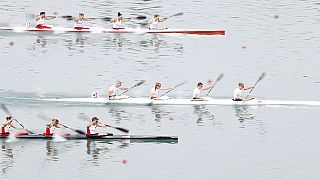 Austrian twins Anna-Maria and Erini-Marina Alexandri won an unexpected silver medal in the women's synchronised swimming duet final at the European Games on Monday, just days after three members of the team were hit by a bus in the athlete's village.
The incident Thursday morning left all three athletes needing treatment while the most seriously injured swimmer, Vanessa Sahinovic, has been kept in an induced coma after she suffered multiple broken bones and was flown back to Vienna to undergo surgery. The other two escaped with minor injuries.
The 17-year-old sisters had considered withdrawing from their events following the incident but later decided to stay and compete on behalf of their team mates, eventually dedicating their achievement to them during a poignant medals ceremony.
"Of course, this for Vanessa and Luna and also for all the other girls in the team. It's for our coaches, for Austria, for our family, for our mother and for all the people who have supported us," said Eirini-Marina.
"We are proud of what we've done. It has been very difficult but we have had very big support from our Olympic committee and Austria.
"We never imagined we would win a silver. We just wanted a medal, the colour didn't matter."
Austria's synchronised swimming coach Albena Mladenova revealed their surprise medal had also helped boost team morale after a testing period.
"I'm very proud of them. What they have done is amazing, remarkable," she said close to tears. "I'm a coach who wants perfection but everything was together and I think they have helped put a smile back after some bad days."
Keeping the great Russian synchro tradition alive in Baku was the pair of Valeriya Filenkova and Daria Kulagina who won the gold in the duet by scoring 169.0568 points, while Austria had 162.8395 points for the silver and Ukraine won bronze with 161.6500.
Germany and Hungary battle out the Canoe-Kayak
Meanwhile, in the canoe-sprint events, Germany and Hungary continued their rivalry as both nations claimed two golds each on the first day of finals in Mingachevir.
European champion and Olympic bronze medallist Max Hoff of Germany added to his already impressive medal collection with a victory in the men's kayak single 1000 metres, stopping the clock in a time of three minutes 28.205 seconds.
"I really had to fight for this, whereas it has been a bit easier in the world cups before," Hoff told reporters. "In the first 500 metres I was not as good as I usually am and the other guys were racing very fast in this section."
"I'm happy with this medal because it might be a one-off for me. You never know whether I'll be around for another European Games."
His effort proved just enough to hold off a late challenge from Portugal's Fernando Pimenta who finished second in a time of 3:28.421. Denmark's world champion in the kayak 500 metres, Rene Houlten Poulsen, bagged the bronze with a 3:28.863.
Olympic champion and favourite Sebastian Brendel then continued Germany's success by taking the crown in the men's canoe single 1000 metres event, clocking a time of three minutes 50.147 seconds, 0.963 seconds ahead of the Czech Republic's second place finisher Martin Fuksa.
"This was a very good race. I executed my game plan and that worked," said Brendel. "The plan was to have a good start but to hold a little bit back in the middle and then finish hard at the end."
"And with that plan it appeared I was just a little bit quicker than the Hungarian and the Czech."
Hungary, however, was quick to claim its share of medals after the earlier show of German dominance and the quartet of Gabriella Szabo, Danuta Kozak, Anna Karasz and Ninetta Vad won the women's kayak four 500 metres event, beating the Germans into second place by almost a full second.
An exciting battle for bronze saw Poland edge out Romania but the race belonged to Hungary, who continued their strong tradition in the race.
Three-time Olympic champion Zoltan Kammerer and partner Tamas Szalai rounded off the medal events of the day by narrowly beating the Germans to secure another gold medal for Hungary in the men's kayak double 1000 metres.
The Hungarian pair won in a time of three minutes 11.681 seconds while Germany and Belarus finished in a 3:12.034 and a 3:13.584 respectively.
"This is a good feeling. These are the first European Games so it is hard to say what it will mean in the future, but let's hope it becomes a great event," Szalai said.
"We had a good start. After 200 metres we were at the right pace and we kept that pace until the finish line. That was exactly what we planned."