'While the parties bicker, Yemen burns:' Ban Ki-moon opens Geneva peace talks
Comments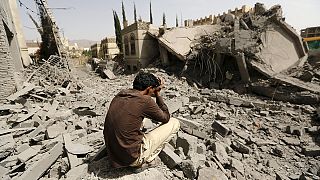 United Nations Secretary General Ban Ki-moon opened peace talks on Yemen with a chilling warning: "When the parties bicker, Yemen burns."
When the parties bicker, Yemen burns.
Ban called on Yemen's opposing factions to observe a humanitarian ceasefire for a minimum of two weeks to mark the start of the holy month of Ramadan and to allow much-needed supplies into the country.
Ban Ki-moon calls for a humanitarian pause in Yemen of at least 2 weeks, during Ramadan - "a time for peace..." https://t.co/XxeOh58mys

— United Nations (@UN) June 15, 2015
"Today, Yemen's very existence hangs in the balance," he added, demanding an end to local fighting and the withdrawal of armed groups from Yemeni cities.
"We have a special obligation to act. Even before the terrible fighting, Yemen was one of the world's poorest countries in one of the world's richest neighbourhoods," Ban said at the Geneva talks.
He went on to say more than 2,600 people, half of whom were civilians, have been killed in the fighting in the country. According to the World Health Organization (WHO), this figure is under-estimated.
It's reported that fighting has resulted in more than 12,000 casualties since March but the actual number is likely to be much higher #Yemen

— WHO Yemen (@WHO_Yemen) June 12, 2015
The Secretary General's speech came amid reports pro-government, Saudi-led air strikes are continuing to bombard the Yemeni capital Sana'a.
Delegates from both sides of the conflict are expected at the talks, although reports suggest Houthi-rebel representatives had been delayed in Djibouti and had not arrived in Geneva when proceedings began.