Baku European Games: first days Highlights
Comments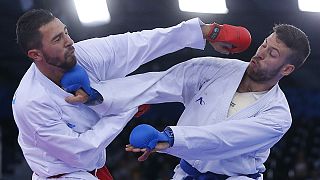 ​Azerbaijan karate star Rafael Aghayev stole the limelight on the first full day of competition at the European Games in Baku by winning the men's 75kg kumite while compatriot Firdovsi Farzaliyev claimed the hosts' first gold medal of the Games.
Nine-times European champion Aghayev, known to his fans as the "Maradona" of karate after Argentinian football legend Diego Maradona, recovered a shock first round defeat to progress to the final where he produced a yuko single point score with just 10 seconds left on the clock to defeat Italy's Luigi Buso 1-0 in an evenly contested final.
"In the group stage I couldn't put my mind together. I couldn't concentrate," said Aghayev. "It was different in the final. I met one of my fiercest rivals and I beat him."
"It was hard to concentrate when they shouted my name. You have to look before you leap, and I didn't want them to push me more than I could take," he added.
"But I'm grateful for the support from the home crowd."
Earlier, compatriot Firdovsi Farzaliyev claimed Azerbaijan's first gold medal of the Games in the men's 60kg event by beating Italy's Luca Maresca 4-0 but was lucky to progress to the semi-final after his opponent, Macedonia's Emil Pavlov, was disqualified for a late foul when leading 4-2.
"In my motherland, in my first European Games, I have victory, I feel I dominated the final." said Farzaliyev. "I feel very proud and I have to say that home crowd helped me a lot."
Aghayev and Farzaliyev's golds capped off an impressive day for the Azeri karate team which also saw Ilaha Gasimova win bronze in the women's 55kg and Niyazi Aligev win bronze men's 67kg.
Turkey and France were also dominant to ensure the six gold medals awarded were shared between only three nations.
Serap Ozcelik won the women's 50kg while Burak Uygur won the men's 67kg event for Turkey while France's Emily Thouy and Lucie Ignace took victories in the women's 55kg and women's 61kg respectively.
Swiss Dominance
Elsewhere, the Swiss enjoyed dominance in the mountain biking events by taking home five of the six medals on offer.
Jolanda Neff enjoyed a brief moment of history by becoming the first athlete to win an European Games gold medal in the women's cross country where she clocked a 1:31.05, dominating for the majority of the race.
"This is the first medal event and to cross the finish line in first is absolutely amazing for me," she told reporters. "It was very windy today but I was able to attack and find a gap, and it was great that my teammate could win silver as well."
"We stayed together in a group of eight for the first three laps and then I attacked and made the gap bigger and bigger."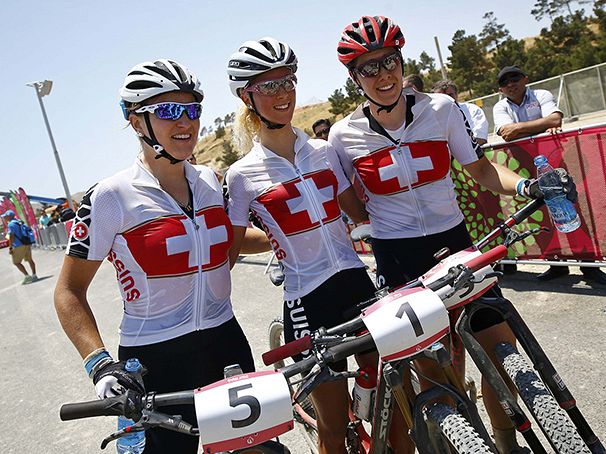 Continuing Switzerland's success in the men's cross country was the trio of Nino Schurter, Lukas Fluckiger and Fabian Giger who led from the start but it was Schurter who proved himself to be the strongest, overcoming a puncture early on in the race to eventually cross the finish line in a time of 1:41.04.
Fluckiger took the silver after resisting a late challenge from Giger with a 1:41.17.
The last medal of the day for Switzerland was won by Olympic champion Nicola Spirig in the women's triathlon at Bilgah beach as she secured her qualification for the Rio 2016 Olympics.
Spirig took on, among others, former rival Lisa Norden of Sweden who she had beaten at the the London 2012 Games in a photo-finish.
Rachel Kramer of the Netherlands led the women after the swim but Spirig and Norden pulled through on the bike phase of the event although this time, unlike three years ago, Spirig finished well clear of the Swede in a time of 2 hours 28 seconds.
"It feels amazing to win the first European Games and to have won a qualifying spot for the Olympics in Rio makes this a perfect day for me," said Spirig, an international marathon runner in her spare time.
"Winning the qualifying place means I can go an unconventional way to the Olympics and gives me the freedom to prepare my season as I want."
Day 2 Highlights
Gordon Benson became Great Britain's first European Games gold medallist and secured his qualification for the Rio 2016 Olympics with a win in the men's triathlon on Sunday.
The 21-year-old from Leeds, whose best achievement going into the race was a third place finish at the World Under-23 Championships last year, overcame sweltering hot conditions to cross the finish line in a time of one hour, 48 minutes, 31 seconds at the Bilgah Beach in Baku, carrying a Union Jack flag.
"It was brilliant, but I couldn't have done it without the lads, Phil and Tom, they really helped me out," said Benson. "It's great to come here and deliver – that's why we're in Baku. It's great to be part of Team GB, a winning team."
"I don't know if it was the perfect race but close enough. The boys really delivered, we got a breakaway and thankfully we left all the better runners behind and I had the legs to hang on."
After a tight swim and cycle where he sat between fifth and eighth, Benson eased away on the run to put enough distance between him and the eventual second place finisher Joao Silva of Portugal who running relentlessly, almost caught the Briton from 50 seconds down.
The Ukraine-born Azeri Rostyslav Pevtsov finished third a further 11 seconds adrift of Silva.
Brothers Alistair, the 2012 Olympic champion, and Johnathon Brownlee, the 2012 Olympic bronze medallist, did not compete at the European Games, preferring to focus on the next leg of the ITU Triathlon World Series although they are still expected to be part of the team heading to Rio next year.
Impressive Russia
Meanwhile, the second day of action in Baku turned out to be a fruitful one for Russia in the Greco-Roman wrestling as they added two golds to their already impressive medal haul, while hosts Azerbaijan also claimed a gold and silver.
Despite the organisers best efforts to keep sport and politics separate at the Games, when Artem Surkov led the charge for Russia in the men's 66kg category against Armenia's Migran Arutyunyan, the crowd aimed boos at the Armenian who had knocked out home favourite Hasan Aliyev in the last-four.
Surkov soon proved to be stronger of the two, securing a 3-0 victory over Arutyunyan, ending Armenia's hopes for their first gold medal and prompting further jeers from the spectators.
"Of all the bouts I fought, the final was the toughest, because there was so much responsibility on me to win. I was more active than him," he said.
"We met many years ago when he was in Russia. He was the national senior champion and I was a junior. I lost then, but I have made good progress and I deserved my revenge today."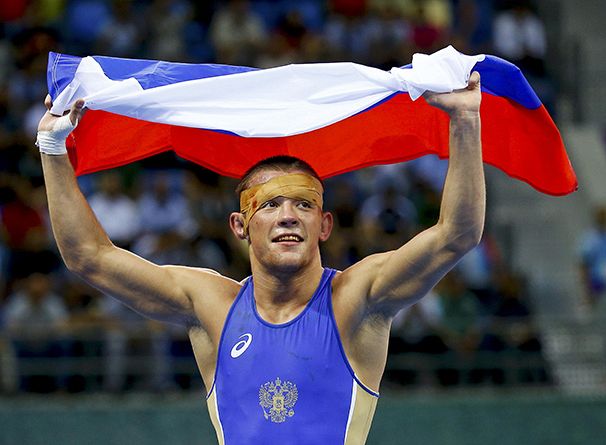 Davit Chakvetadze of Russia quickly followed in Surkov's footsteps with a gold in the men's 85kg category, beating Ukraine's Zhan Beleniuk, the 2014 European champion, 3-2 in a closely contested final.
"I knew this would be a tough contest. He (Zhan Beleniuk) is very strong, and I cannot express how happy I am to win. This is my first big international success," he later commented.
Turkey's Metehan Basar and Germany's Ramsin Azizsir cleanly won their bouts over Armenia's Maksim Manukyan and Croatia's Nenad Zugaj respectively to win bronze.
Azerbaijan also continued their strong medal run at the European Games as Elvin Mursaliyev defeated Viktor Nemes of Serbia 5-1 in the men's 75kg category, increasing the hosts' number of wrestling titles to two.
"I am immensely happy to win the gold medal in my motherland at the first European Games," said Mursaliyev. "I didn't let the home crowd be ashamed."
"Everything was super."
In an unusual result, the bronze medal was shared between Dmytro Pyshkov of Russia and Chingiz Labazanov of Russia.