2015 European Games: Germany dominate first day of Canoe sprint medals
Comments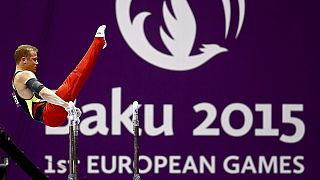 Five Canoe Sprint golds were up for grabs on Monday at the inaugural European Games in Baku, Azerbaijan.
Max Hoff got the German contingent off to a fine start at the Kur Sport and Rowing Centre in Mingachevir.
Hoff paddled his way to the top of the podium in the men's Kayak Single 1000m final.
After compatriot Sebastian Brendel claimed gold in the men's C1-1000m disicipline Germany had to settle for second best in the only women's canoe event on the day.
Traditional powerhouse Hungary claimed the women's kayak four 500 metres race.
Poland's quartet took the bronze to round off the podium behind Germany.
Hungary picked up another gold in the men's kayak double 1000 metres.
From the Kur river to the Baku Aquatics centre, where Russian duo Valeriya Filenkova and Daria Kulagina won the Synchronised Swimming duets free routine.
Austrian twins Anna-Maria and Eirini-Marina Alexandri won silver and quickly dedicated it to their team-mates who were seriously injured after being hit by a bus on Thursday – the day before the opening ceremony.
Yana Nariezhna and Yelyzaveta Yakhno of Ukraine took bronze.
Belarus meanwhile won the men's C2-1000m, ahead of Russia and Germany.
In total Germany enjoyed five medals from day one of the canoe events – two gold medals, two silver and one bronze.