Manhunt resumes after New York prison breakout
Comments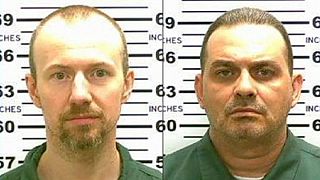 More than a week after launching a manhunt for two escaped murderers, police in New York state say they have no new leads.
Officers continued to a scour a wooded area close to the maximum security prison where the pair broke out last Friday.
Local residents say they are on edge after being warned not to approach the men, who are described as 'dangerous and desperate'.
John St. Germain, a resident of Cadyville said: "Well, I'm just kind of looking along the river. The river is real high right now, and seeing if I see anything. And if I see something I know what to do."
Another resident Shelly St. Denis added: "We have been a prisoner in our own home for basically for about the last week or so. It's scary, I mean, you just don't know. You're afraid to be in your house and have someone coming in at you that has nothing to loose."
A $50,000 reward has been offered for information leading to the capture of Richard Matt and David Sweat.
The pair used power tools to saw through heating pipes and utility tunnels at the jail before climbing out of a manhole cover in the middle of a village street but not before leaving a "have a nice day" message for prison guards.