Budapest Judo Grand Prix ends with bang
Comments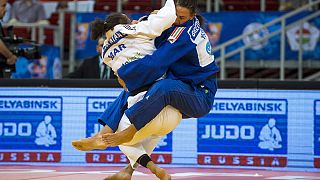 The Budapest Judo Grand Prix ended on Sunday with some spectacular matches.
In the women's under 70kg, Spain's Maria Barnabeu took gold after beating Germany's Szaundra Diedrich on penalties.
London Olympic 2012 champion, Kayla Harrison was imperious in her under 78kilo final against Slovenia's Anamari Venlensek. After inflicting a waza-ari the American recorded an ippon just before the regulation four minute bout ended.
"I take every tournament as practice. Everything is a dry run for the Olympic games and for the world championships. So in my head: it is not a Grand Prix. It is the final of the olympics," Harrison told euronews after her bout.
In the 78+ kg category, Turkey's Kayra Sayit defeated Africa's triple champion, Tunisia's Nihel Cheikh Rouhou on penalties.
In the men's competition, Uzbekistan grabbed gold in the under 81-kg category when Yakhyo Imamov beat France's Alain Schmitt with a waza-ari.
The same move put paid to another Frenchman Romain Buffet who went down against Portugal's Celio Dias in the under 90-kg category.
Germany's Dimitri Peters lost on penalties to Egypt's Ramadan Darwish in the under 100-kg class.
Finally, in the over 100-kg division, Japan's Asian Games champion Takeshi Ojitani got the better of Ukraine's Oleksandr Gordiienko thanks to penalties.
Our correspondent in Budapest Kristóf Péter says now all eyes will be on the next important judo competition at the European Games in Baku. That will be followed by the next Grand Prix in Ulaan Batar at the beginning of July.