Benson claims first gold for Britain in Baku
Comments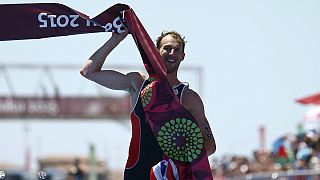 High noon on day two of the European Games in Baku. In the sweltering heat Great Britain claimed a first gold medal as Gordon Benson won the triathlon.
Temperatures topped the 30 degree mark but after a strong swim Benson was well-placed and broke free from the chasing pack in the 10k run. He was caught briefly but took the lead again and held it to the finish.
He came home 11 seconds ahead of Portugal's Joao Silva with Azerbaijan's Rostyslav Pevtsov in third.
The 21-year-old's success also guaranteed him a berth in the event at the Rio 2016 Olympics.
France struck gold in the Karate. Emily Thouy outwitting Jelena Kovacevic.
Meanwhile Games chief, Simon Clegg said Azerbaijan's seven medals on day one was the highest return for any nation and will vital for delivering a successful event.