Battle of Ligny: Napoleon's final victory re-enacted to mark bicentenary
Comments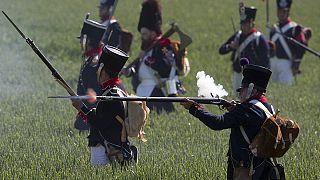 Hundreds of volunteers have been re-enacting Napoleon Bonaparte's final victory in Belgium.
It was in Ligny that the French Emperor beat off the Prussian army on 16 June 1815.
Two days later, he lost the Battle of Waterloo – when his reign, and dreams of expanding his vast empire, came to an abrupt end.
Euronews reporter Audrey Tilve, who watched the Ligny re-enactment, explained: "When Napoleon arrived in Belgium, he'd been trying for three months to reconquer his empire. He advances on his enemies, the anglo-Dutch and Prussians. He's hoping to defeat them separately. Here in Ligny, he faces the Prussians and forces them to withdraw."
Historian Patrick Maes said that 20-thousand men were killed in the Battle of Ligny, which went on for six hours.
"It means one soldier fell every second," he said, "Napoleon had only pushed back three Prussian army units, he'd not beaten them, they were not defeated."
Frank Samson, a French lawyer in real life, played the role of Napoleon during the re-enactment.
"It's a pleasure to perform living history, remembering those events," he said.
"These days, we're friends, we don't massacre each other. This event is a good way to talk about these historic events."
Further festivities and reenactments are planned to mark the Battle of Waterloo, when British and Prussian forces defeated Napoleon – at a cost of almost 50,000 dead and wounded on both sides.
In the country that saw the Emperor's last stand, the anniversary is being marked by exhibitions and the release of commemorative stamps and medals.
Britain's Prince Charles and his wife Camilla are due to take part in the official opening of commemorations on 17 June in Waterloo.