Six Yemeni prisoners transferred from Guantanamo to Oman
Comments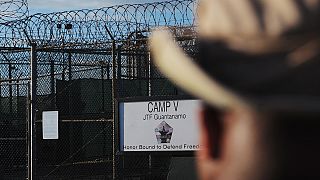 President Obama's goal to close the US naval-based prison at Guantanamo in Cuba moved another step closer as six Yemeni inmates were flown to Oman for resettlement.
The Pentagon released the news on Saturday.
The men had been held at the internationally condemned Guantanamo for more than a decade. Most inmates there have been detained without trial or formal charges.
They have been sent to Oman because the US has ruled out sending them back to Yemen due to the chaotic security situation there.
This latest transfer is the largest so far this year and reduces the count at the naval base to 116, less than half the number than when Obama took office in 2009.
But despite his pledge to close the prison progress has been slowed by US lawmakers who have restricted the transfers and ruled out moving inmates to prisons on the US mainland.
The delays have led to protests from those opposed to the camp at Guantanamo.
Hate torture? Love human rights? Join us: #26June Int'l Day in support of Victims of Torture http://t.co/JeEEWFCRTIpic.twitter.com/PxtX1YgeD3

— London Guantánamo (@ShutGuantanamo) June 7, 2015