Man suspected of attacking Dallas Police headquarters confirmed dead
Comments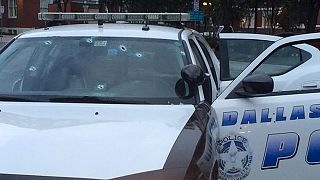 A man suspected of attacking the headquarters of Dallas Police with gunfire and explosives has been confirmed dead.
Authorities say the suspect was shot by police snipers through the windscreen of a van in a fast food restaurant car park.
A controlled explosion was also carried out on the vehicle after two pipe bombs were detected inside.
The attack began just after midnight when a gunman riddled the police headquarters with bullets and left behind at least two devices that later exploded, according to police.
The attacker then rammed a patrol car before leading police on a high speed chase.
Police believe the suspect was motivated by personal grievances.
"The suspect has told our negotiators that we took his child and we accused him of being a terrorist, and that he's going to blow us up," said David Brown, Dallas police chief.
Police say the gunman had threatened to kill officers. None were injured in the violent, hours-long ordeal.