Anti-austerity leaders sworn in as Madrid & Barcelona mayors
Comments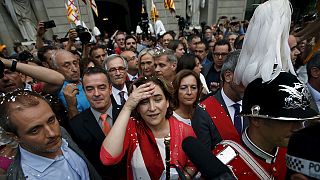 Dubbed the hugging grandma, Manuela Carmena has been sworn in as the Mayor of Madrid backed by the leftist Podemos party.
The 71-year-old has swept two decades of Popular Party rule in the Spanish capital to one side after making a deal with the Socialists on Friday.
Her election and similar wins for the left in city halls across the country is seen as precursor to the national vote later this year.
Pablo Iglesias, the leader of Podemos – an anti-austerity party which has grown from nothing little more than a year – is delighted with the success.
"Today there is fresh air in the institutions and probably it's the beginning of change in our country. Now we feel more strength, more capacity to win the general elections against the Partido Popular (Popular Party) in November," he said.
In Barcelona, another anti-austerity campaigner was sworn in as mayor on Saturday. Ada Colau spent years battling on behalf of homeowners evicted due to the financial crisis.
She pushed out Xavier Trias, who led a centre-right coalition backing independence for the Catalonia region.
As well as prioritising local job creation, Colau
will earn a quarter of her predecessor's salary and will give up other privileges which go with the job.