Rupert Murdoch to step down as 21st Century Fox chief executive
Comments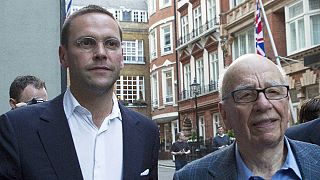 Rupert Murdoch is reportedly stepping down as chief executive of entertainment company Twenty-First Century Fox and handing over the reigns to his son James.
It is understood that James will work in tandem with his brother Lachlan in a "partnership."
But it seems 84-year-old Rupert will still have the final say with what goes on at Fox, by staying on as executive chairman.
"He will be pulling the strings, no matter what happens underneath. He puts his son in as CEO, his son James," explained Jeffrey Goldfarb, Reuters breakingviews columnist.
"His son Lachlan, who is already co-chairman, comes over as executive co-chairman, which is sort of a subtle change, but meaningful."
It is unclear whether the re-organisation will happen this year, or in 2016.
The matter is due to be discussed at the next company board meeting.
Twenty-First Century Fox is behind Fox News and the studio that makes the "X-Men" movies.