Kosovo exhibition of dresses and skirts in Pristina to remember women who suffered sexual violence in wartime
Comments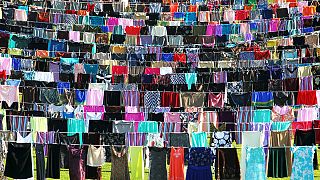 Over 5,000 skirts and dresses have been hung out on washing lines in Kosovo in the heart of a male preserve, Pristina's main football stadium. Many have messages written on them. All have been donated to the exhibition. They are there to draw attention to the stigma suffered by victims of wartime sexual violence, the idea of artist Alketa Xhafa-Mripa.
"There is no help, there is no support, there is no status for them, then basically I thought how could I contribute in my artistic way for the survivors," she said.
Kosovo's first female president Atifete Jahjaga donated one of her dresses, so to did Cherie Blair the wife of former UK Prime Minister Tony Blair.
"We got together to remember their pain, to recognise their sacrifice and to tell them that they are not alone," the president told an audience at the exhibition.
The number of women who were subjected to sexual violence during Kosovo's 1998-99 war is unknown but NGOs say it could run into thousands.
Many have kept silent about the violence they suffered at the hands of Serbian forces and paramilitaries. Some of those who have spoken out have faced being ostracised by Kosovo's conservative and mainly Muslim Albanian society.