Arrests made over Ukraine fuel depot fire
Comments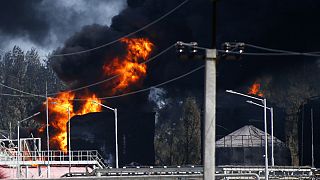 Ukrainian authorities have detained two people as part of an inquiry into this week's fatal fire at a fuel depot near Kyiv.
They are said to be Yuriy Shkvyra – deputy director of a fuel trading company and the acting manager of the plant's owners, BRSM-Nafta – as well as an engineer.
Separately, Ukraine's former deputy prosecutor general is being investigated on suspicion of accepting bribes from the depot's owners.
The prime minister has ordered the interior ministry to punish those responsible.
"We have to make responsible, to make criminally responsible everybody who is guilty over this fire and who is guilty of breaking the law," Arseniy Yatsenyuk said.
The fire near Vasylkiv was mostly under control on Friday, in contrast to two days earlier when it raged after spreading among petrol tanks.
The body of a man was found at the site on Friday, bringing the total number of dead to six.
The plant's owners say safety rules were respected and suspect arson. They have offered one million Ukrainian Hryvnia (42,000 euros) for information on the cause of the fire.