Street art, with romantic twist, replaces Paris "love locks"
Comments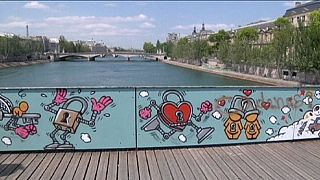 On the Pont des Arts in Paris, the controversial "love padlocks" – signed and locked by lovers onto the bridge's metal grids – have been replaced by street art.
Paris authorities last week removed 45 tons of padlocks weighing on the bridge's structure.
To appease romantics, authorities commissioned a street art exhibit on the theme of love. But plain plexiglass panels are set to take over permanently later this year.