Astronauts return home after record-breaking ISS mission
Comments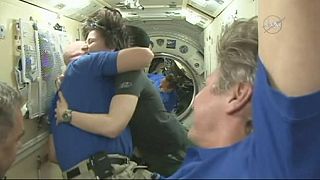 Three astronauts are on their way back to Earth from the International Space Station.
A month-long technical delay led to Flight Engineer Samantha Cristoforetti from the European Space Agency spending 200 days in orbit – a record time for a female astronaut on a single mission.
So long… and thanks for all the fish! #Futura42pic.twitter.com/zBei4SbMQx

— Sam Cristoforetti (@AstroSamantha) June 11, 2015
Once unlocked from the ISS, their Soyuz spacecraft is due to land in Kazakhstan after a return flight of a few hours.
NASA estimate they have travelled more than 135 million kilometres since their voyage began in November.
You can watch their return live here:
Watch a Euronews interview with the astronauts while they were in space: