Turkey's AK Party pursues talks on coalition options
Comments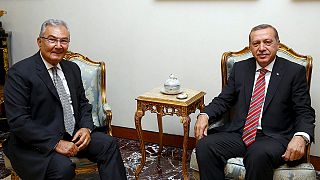 Turkey's ruling AK Party says all options are on the table as it seeks to form a new government.
In an interview with the state broadcaster prime minister Ahmet Davutoglu made clear their are no red lines defining coalition talks.
With negotiations reportedly yet to start President Recep Tayyip Erdogan entertained senior opposition lawmaker Deniz Baykal.
As parliament's oldest deputy he will lead
its first session.
After their talks the former head of the Republican People's Party said:
"I believe that Turkey should overcome this period of uncertainty as soon as possible and I have seen that the president agrees."
"I got the impression that he is open to all coalition solutions and that includes opposition parties forming a coalition government on their own."
But his opinion does not appear to be shared by all opposition figures. Selahattin Demirtas, the co-leader of Turkey's pro-Kurdish HDP party accused the government of standing aside in the face of attempts to "push the country into a civil war" by fomenting violence in the mainly Kurdish southeast.