Hungary: billboard war sparks international concern
Comments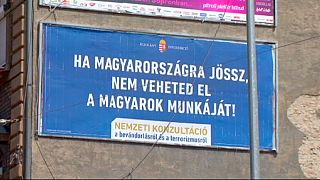 A billboard war in Hungary has sparked international concern.
The government has put up signs warning refugees not to steal Hungarians' jobs. Opponents plan to retaliate with billboards, written in English, welcoming people to the country.
In recent weeks, the central-European nation has stepped up anti-immigration rhetoric as swelling numbers of asylum seekers flock to the continent.
Some activists have been arrested for defacing the government-ordered billboards.
In addition, the electorate has been sent a new government-ordered survey on 'immigration and terrorism,' which appears to link migration to acts of terror.
The survey includes strategically-posed questions, such as "Do you agree with the Hungarian government that instead of migrants, we should support families and their future babies?"
Spokesman for the Hungarian government, Zoltán Kovács gave his explanation of Budapest's stance on immigration.
"We are simply curious about what people think about this political question," he said. "Because, whether we like it or not, immigration is a political issue, both on a Hungarian and European level."
Gergő Kovács is the leader of the Two-Tailed Dog Party, a small group, which came up with the idea of the opposing billboards.
"It made us very angry that the government spends our money on a campaign to tell us who to hate," he explained. "I think it is very unpleasant for Hungary. We don't want to show this image of our country. We would like to show that many people think differently from the government."
In the European Union in 2014, Hungary was second only to Sweden in the number of asylum requests per capita, with 43,000 people submitting demands.
Viktor Orban
Prime Minister Viktor Orban recently labelled migration a threat to "European civilisation."
Orban also recently floated the idea of debating whether to bring back the death penalty to Hungary.
His policies have given MEPs cause for concern. They have passed a non-binding resolution saying Hungary should be monitored for abuse of human rights and the rule of law.
Our correspondent Andrea Hajagos adds:
"Many believe the government's real aim is to win back voters who left them for the far-right Jobbik Party. But some analysts his Fidesz party will lose support because of this campaign."