Britain EU membership comes into shape
Comments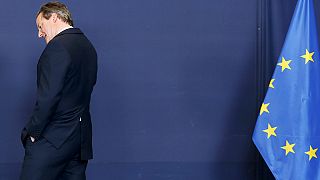 British MPs overwhelmingly voted on Tuesday (June 9) to have the UK hold a referendum on its EU membership, as pledged by Prime Minister David Cameron.
But the heated debate underscored differences that could split Cameron's Conservative Party – and the UK itself, as Scottish nationalists say they could demand a re-run of last year's failed independence vote if England wants to leave the EU but Scotland wants to stay.
"It would be outrageous, disgraceful, undemocratic and unacceptable to drag Scotland out of the European Union against the wishes and the will of the Scottish people," said former Scottish First Minister Alex Salmond.
Cameron won a shock Conservative majority in last month's general election, on a pledge to renegotiate Britain's ties with Europe.
He says he wants Britain to remain in a reformed EU and that he's confident he can get Brussels to interfere less into domestic policy
But the issue of Europe is famous for wreaking havoc within the Conservatives – having contributed to the downfall of Cameron's predecessors Margaret Thatcher and John Major.