US police officer suspended after pulling gun on a teenager
Comments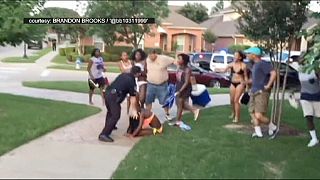 A Texas police officer has been suspended after
a video surfaced on social media of him pushing a teenage girl to the ground and pulling a gun on another youngster at a pool party.
A seven-minute YouTube video shows a police officer swearing and aggressively throwing a 15-year-old girl in a bathing suit to the ground, face-down. He then appears to pin her down with his knees.
The girl can be heard screaming, "I want to call my mom. He hit me."
The incident happened in Mckinney near Dallas and concerned residents have expressed outrage at the heavy handedness of the police.
David Lee, author and former McKinney resident:
"So should this man lose his job. I think that's the least of what should happen. At best, this department must take a deeper look at the belief systems its officers hold when they respond to situations that involve children."
The behaviour of the police officer who has been names as Eric Casebolt has raised fresh questions about racial bias in US police.
However several witnesses have said the youths antagonised officers and refused to obey orders to stay put and keep the noise down.
McKinney has a population of 150,000, with African -Americans making up just over 10 percent of residents.
Comments on Twitter after the incident:
Police are supposed to de-escalate situations, like the other #McKinneyPolice were doing, NOT run around like Rambo with their gun drawn.

— Shannon MacDonald (@shananigins15) June 8, 2015
You can call it "restraint" all you want. Straddling a 70 pound 13 y/o girl in a bikini looks like a sexual assault to me #McKinneyPolice

— Jason Johnson (@DrJasonJohnson) June 8, 2015