Fashion designer Madame Carven dies aged 105
Comments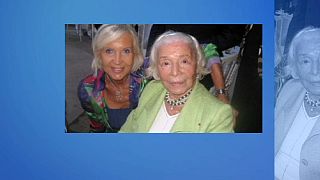 French fashion designer Madame Carven has died at the age of 105 in Paris.
Carven who was born Carmen de Tommaso became famous for her simple but elegant nipped-waist dresses. Stars such as Edith Piaf and Cécile Aubry sported her designs, which reportedly inspired the costumes in Hitchcock's Vertigo and Rear Window.
She also went on to patent the idea for the push-up bra.
Remembering Madame Carven #paris#magriffehttp://t.co/FU4C2fBdwF

— carablack (@carablack) June 8, 2015
She was vastly ahead of her time when it came to marketing strategies, too. Among her more memorable moves were creating a collection based on Gone With the Wind in 1950, the year the film was released in France, that toured the country,
She was awarded France's highest civilian honour, Commander of the Legion of Honour, in 2009.