Eleven men sentenced to death after fatal Egyptian football violence
Comments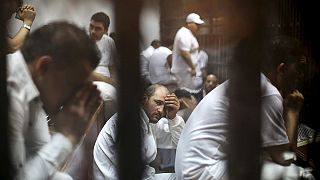 An Egyptian court has sentenced 11 men to death for their part in the worst football violence the country has seen.
Seventy-four fans were killed at the Port Said stadium in 2012 and more than a thousand injured.
Many of those who died were crushed as they ran from a pitch invasion by supporters of the local side al-Masry who were playing their great rivals al-Ahly.
Others were thrown from or fell from terraces.
The court session was televised live.
Ten men were given sentences of 15 years, 14 were handed 10 years and 15 received five years.
Twenty-one people were found innocent and those convicted have the right to appeal.
Outside the court some of the victims' relatives were outraged at sentences they thought were too lenient.
The former Port Said police chief was given five years, a decision that angered some people.
"Since his arrest, the head of security has not spent an hour inside a cell. He's staying at the academy's hospital. He appears in his Adidas shirt and Nike shoes and enters the court in front of us," said one woman.
Football matches have often been flashpoints of violence in Egypt. Local reports said the fighting during this match was sparked when al-Ahli supporters unfurled banners insulting their rivals after winning the game 3-1.
Since the tragedy authorities have cut the number of people allowed to attend matches but this has sometimes led to fans trying to make their way in by force.
In February at least 22 people were killed in a stampede outside an Egyptian soccer stadium when fans tried to push their way past security forces.