A huge fire rages out of control at a fuel depot in Ukraine
Comments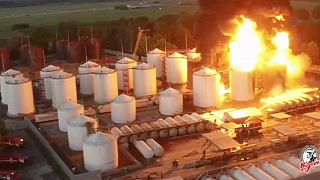 Firefighters will battle through the night to contain a huge fire at a fuel depot in Ukraine.
The towering plume of smoke from the blaze can be seen from afar. Scores of firefighters are at the site, 30 kilometres from Ukraine's capital, Kyiv.
Eight containers at the plant are ablaze. The fear is that the flames will spread to neighbouring sites which include a military base.
The Euronews correspondent at the scene says the fire is burning strongly and continuing to spread. A number of workers are missing, along with at least three firefighters.
Water and supplies are being brought in by rail. Emergency crews will be at the scene here for some time to come.
Witnesses say an explosion rang out immediately before the fire began. Ukraine's head of National Security and Defence, Oleksandr Turchynov, says there are two possible explanations for the cause. The most likely is a breach in safety regulations while the second is sabotage. Forensic work to establish the cause will begin once the fire has been extinguished.
Emergency workers are monitoring the rapidly-developing situation from the air. From above, two things become clear. The extent of the blaze – and just how close it is to neighbouring installations.