9 things you should know about Apple Music
Comments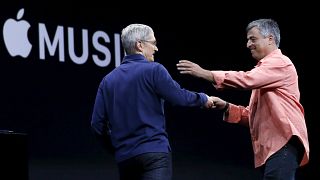 1.What is Apple Music?
Unveiled at this year's Apple Worldwide Developers Conference (WWDC), Apple Music is the company's brand new and very own music streaming service with a monthly fee.
2.How does it work?
Music is three services in one app: a live radio, a social network (more on those that later), and a version of iTunes but on-demand and in the cloud, where you can search for and stream any song available in Apple's 30+ millions songs library.
In a statement, Apple explained that a new feature, "the "For You" section of Apple Music provides a fresh mix of albums, new releases and playlists, which have been personalized just for you" thanks to human and algorythmic curation.
3. How much will it cost?
It will cost you 9.99US$ for one account. A family account, for 14.99$, will give you and your loved ones access to one account with 6 different profiles. A 3-month free trial will be available to users.
4.When will it launch?
Apple's new music service will launch on June 30th in over 100 countries. it will be available to Mac, iOS, AppleTV at this date, as well as PC and Android later this year.
5.What makes it special?
In addition to a built-in social network named "Connect" for artists to reach their fans and the curated playlist, the big feature of Apple Music is Beats1, a live internet radio.
Named after the headphone company owned by rapper Dr Dre and bought by Apple for 3 billion USD, this radio will be accessible worldwide from the service.
Three DJs, Julie Adenuga, Zane Lowe – formerly of BBC Radio One, and Ebro Darden, will host shows from London, NYC, and L.A.
Watch the ad for Beats1 below:

.@Beats1. Worldwide. Always on. Coming soon on #AppleMusic. cc: @zanelowe@oldmanebro@JulieAdenugahttps://t.co/NI5bRcdZYW

— Apple Music (@AppleMusic) 8 Juin 2015
6.What was the reaction of the public?
It drew mixed reactions from the tech crowd.
Jim Roberts of Mashable for instance poked fun at the idea of Apple's "introducing" the radio DJ.
Apple introduces the radio DJ. Oh, wait, that's already been done. pic.twitter.com/V7v71mLwjV

— Jim Roberts (@nycjim) 8 Juin 2015
7.Where does it stand compared to its competition?
This TechCrunch table summarises the ongoing Music Streaming War:
The strengths and weaknesses of Apple Music http://t.co/URJ8YfAqHVpic.twitter.com/Mb3tOVrYHL

— TechCrunch (@TechCrunch) 9 Juin 2015
8.Are the competitors afraid?
Not exactly. In reaction to the product's unveiling, Daniel Ek, the CEO and founder of Spotify, tweeted laconically "Oh ok." He promptly deleted the tweet but not before it was screenshot by some of Ek's followers.
Another competitor, Rdio, spoofing a 1981 Apple ad mocking IBM at the time, ironically welcomed Apple's latest service.
Welcome, Apple. Seriously. #applemusicpic.twitter.com/AnoeKZ5ZIa

— Rdio (@Rdio) 8 Juin 2015
However, the NY Mag tells these competitors they should indeed be afraid of Apple Music's launch.
9. What are the killer features of Apple Music?
The radio, 3-month trial period and playlists curated by top artists set Apple's service slighty apart in the crowded world of online music streaming.
But above all, Apple Music can count on the fact that its devices are ubiquitous. The app will come with every iPhone, and Apple are selling a lot of them: about 135.7 million in 2015 so far, and hundreds of millions have already been sold. This penetration is the sort of advantage Apple Music's competitors do not have and will be key for Cupertino, if it can makes the listeners pay for the music.