Turkey's PM announces AK Party 'clear winner' in election
Comments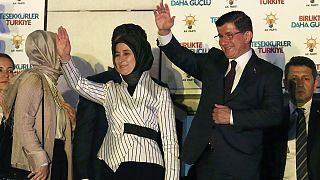 Turkish Prime Minister Ahmet Davutoglu said on Sunday that the AK Party was the clear winner in the country's parliamentary election. He vowed to take all necessary measures to prevent harm to Turkey's political stability.
Davutoglu was speaking from the balcony of the AK Party headquarters in Ankara after preliminary results showed it failed to win an outright majority.
With 97 percent of ballots counted the AK Party had taken 40.8 percent of the vote. That will leave it struggling to form a stable government for the first time since it came to power more than a decade ago.
The partial results indicated that the HDP, with its roots in Kurdish nationalism, had succeeded in widening its appeal beyond its Kurdish core vote to centre-left and secularist elements disillusioned with President Recep Tayyip Erdogan