Turkey's more diverse vote is obstacle to government
Comments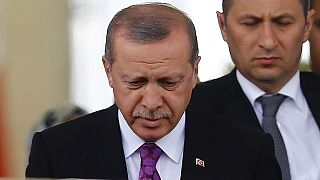 What went wrong for Turkish President Recep Tayyip Erdoğan and the AKP Justice and Development Party in Sunday's elections?
He simply wanted the AK Party which he helped found in 2001 to win another absolute majority. He put his heart into campaigning, even though the constitution rules out party political involvement for the head of state.
He failed to get an overwhelming vote of approval for his ambitions, then his AKP won three million fewer votes than in 2011. That means 70 fewer seats in parliament — far from the absolute majority enjoyed since 2001, the AKP having the power to govern alone.
This is the AK Party's biggest ever electoral setback.
Its driver is Erdoğan's right hand man, Prime Minister Ahmet Davutoğlu. On Sunday evening, he assured supporters that the AKP was the victor, but it is a victory without power, he was reminded in the headlines of the pro-government newspaper Sabah.
The AKP's nemesis is the pro-Kurdish HDP, which scored 13 percent of the vote, allowing the left-wing party to enter parliament for the first time.
Under the leadership of Selahattin Demirtaş the HDP won 80 seats.
Ruling out a coalition with the AKP, Demirtaş said Erdoğan's constitutional project to endow the presidency with greater power is no more.
It falls to AKP leader Davutoğlu to try and piece together a government, to attempt to coalesce with the Nationalist Movement Party (MHP) or, more likely, the Republican People's Party (CHP).
A 45-day period is allotted for these negotiations. If, at the end of that, he fails to muster enough voices of confidence in parliament, the president is instructed to call new elections, 90 days after yesterday's polls; it says so in the constitution.
An expert closely involved in the country's political processes tells us why Erdoğan's wishes were unrealistic.
Melis Özoğlu, euronews: "In the wake of the elections on 7th June, Turkey woke up to a new era. The threshold of ten percent of the votes, which was said to be unattainable by the opposition, was surpassed. In contrast, the AK governing party lost votes. What is expected to happen now? For insight into that, we go to Istanbul, where we're joined by analyst Faruk Acar with polling institute Andy-Ar. To start with the question that's on everyone's mind: even though the AKP has come out first in these elections, why do you think it lost votes?"
Faruk Acar: "Well, we are not really looking at a government that started losing votes just last week. This began with the major events of the Gezi protests and operations in December [police raids and arrests including of sons of government ministers and allies of Erdoğan] that were carried out before the regional elections and also the non-judgement of ministers by the Supreme Court. These events created a formula which caused various layers of the population to begin taking up positions against Erdoğan. The result represents a very important message for the post-election process. The clashes between Erdoğan and the Turkish Central Bank and the bad economic results recently also influenced the election. In general, all of that had a serious impact on voting for the AKP."
euronews: "What party can the AKP form a coalition with?"
Acar: "We could say the AK Justice and Development Party doesn't have more affinity with one or another political party. What's important here isn't the AKP's attitude towards them, but rather what the other parties think about the AKP. It came out of the elections number one. It didn't get enough MPs (276) to be able to form a government according to the requirements set out in the constitution, so will try to get that number through alliances with others. But the distance from the others in terms of what it said during campaigning has led them to close their doors — except for the CHP. As we know, it's practically impossible that the CHP, the MHP and the HDP themselves form a coalition. It's sure that there will be an AKP government. But I personally think the government that is formed will lead to early elections."
euronews: "What do you think about the HDP's success?"
Acar: "If we observe what happened between Erdoğan and Demirtaş in the preceding presidential elections, we see that Demirtaş rose in popularity. Thanks to that, in these elections people voted for HDP — temporary votes, out of democratic impulse. Also, in the electoral process, instead of directly targeting the CHP, the AKP campaign concentrated a lot more on the HDP. In consequence, the HDP formed a position towards Erdoğan that encompassed the views of some social democrat voters. This meant they preferred voting for the HDP instead of the CHP. Strategic votes, temporary votes and libertarian democracy, the party's consideration of itself as a party of Turkey and not only of the Kurds, and its having presented candidates from all the different levels of the people, all that combined so that we can even call it a social democratic party in direct competition with the CHP, making it tough for the CHP."