Russia says G7 "held hostage" by Ukrainian government
Comments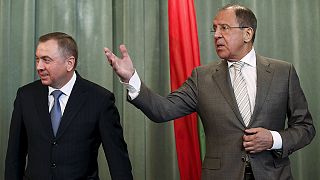 Russian foreign minister Sergei Lavrov says Ukraine deliberately escalated fighting in the east of the country ahead of the G7 Summit taking place in Germany on June 7 and 8.
Speaking in Moscow at a joint press conference with his Belarusian counterpart, Lavrov said on Monday (June 8) that Kiev wants to prolong Western sanctions against Russia:
"You know, it is a kind of Joker card in the hands of the Ukrainian authorities. The Ukrainians will disrupt the implementation of the Minsk agreements but it will be Russia who will suffer because no one will lift the sanctions against them."
As a result, the G7 nations, he said, have "become hostages of the current Ukrainian government."
Western leaders imposed the sanctions in March 2014 after Russia annexed the Crimean region of Ukraine.
Those sanctions were extended five months later after Russia was accused of sending military support to pro-Russian rebels in eastern Ukraine. Russia denies the allegations.
In February 2015, the leaders of Russia, Ukraine, France and Germany met in the Belarusian capital Minsk and agreed to a package of measures designed to end the fighting but they have yet to be implemented.