Mexico's governing party retains power after mid-term election
Comments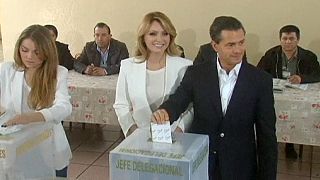 The governing party of President Enrique Pena Nieto has held on to power after a mid-term election in Mexico.
With an average of 30% support, the Institutional Revolutionary Party has a clear majority and looks set to keep control of Congress.
Mr Pena Nieto's tenure has been marked by poliitical scandals and civil unrest. Pessimism and resignation are palpable in Mexico. Protesters burned ballot slips on the streets, saying angrily that their votes don't count.
In Guerrero, teachers angry at education reforms were joined by the parents of 43 students who disappeared last year in circumstances that have never been clarified.
There was a significant police and army presence. Officials say the majority of polling stations were open and voting passed off without incident.