Argentine president meets Pope in Rome
Comments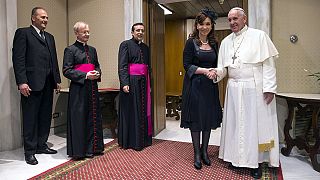 Argentine President Christina Fernandez de Kirchner  is on a brief visit to Rome. Her first port of call was a private audience with Pope Francis at the Vatican.
The behind closed doors meeting lasted more than 1 hour 40 minutes during which gifts were exchanged.
It was the fifth meeting between the pontiff and head of state since the ex-Buenos Aires archbishop was elected to the Holy See.
The Pope was also due to hold talks with Venezuelan President Nicolas Maduro earlier on Sunday but Maduro was forced to cancel after falling ill with flu.
The Argentine leader's official agenda continues Monday when she will receive a prize from the United Nations Food and Agriculture Organisation recognising Argentine efforts to reduce hunger, one of the Millennium Objectives agreed in the UN earlier this year.