Voting begins in Turkey's parliamentary election
Comments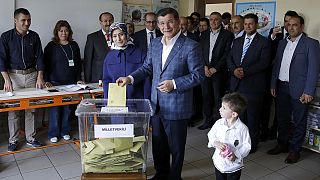 Polling booths in Turkey opened at 8 o'clock Sunday morning, local time, in what is expected to be the closest parliamentary election for more than a decade.
Some of the country's 54 million voters will decide if the ruling Justice and Development (AK) party will maintain a majority it has enjoyed for the last 13 years.
The AK party, formerly led by President Erdogan, is seeking a two thirds majority of the 550 seats on offer.
If it succeeds it intends to change the constitution to replace the parliamentary system with a US style presidential model that will give Erdogan considerably more powers.
While constitutionally required to stay above party politics, Erdogan has joined Prime Minister Ahmet Davutoglu in attacking opposition parties.
The two have portrayed the election as a choice between a "new Turkey" or a return to a history marked by short-lived coalition governments, economic instability and military coups.
The main opposition comes from the Republican People's party which says it is time for change but the real story and source of tensions this year is the rise of the Kurdish People's Democratic Party or HDP.
Two days after their election rally was hit by a bomb blast which killed two and wounded over a hundred people, the HDP looks set to gain over the 10 percent of votes required to earn seats in parliament.
If they do they will become the first Kurdish party to be represented in parliament and might form a strong opposition with left wing allies to scupper the AK Party's plans.