Parliamentary elections in Turkey a test for President Erdogan
Comments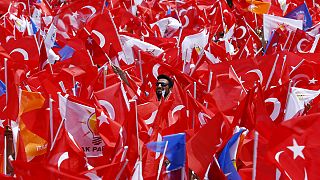 Turkey goes to the polls on Sunday in parliamentary elections that could decide whether broad changes are made to the country's political system and constitution.
President Tayyip Erdogan is hoping the group he formed and now led by Prime Minister Ahmet Davutoglu, the AK Party, win a crushing victory so it can push ahead with its plans to alter the constitution to allow the head of state greater powers. In order to do that it needs at least two-thirds of the 550 seats up for grabs.
The AK Party's main opposition comes from the Republican People's Party (CHP) that dominated politics in the country for more than seven decades.
Party leader Kemal Kilicdaroglu has asked the electorate to vote for a change after 13 years of rule by the current government.
The Kurdish People's Democratic Party or HDP, running for the first time, could spell the end of the AK Party's plans of an overall majority if it crosses the 10 percent threshold needed to enter parliament.
Party leader, Selahattin Demirtas, criticised President Erdogan for going ahead with a rally and being slow to react to the deaths of two people in a bomb attack at a HDP meeting on Friday.
A total of twenty political parties and 165 independent candidates are taking part in Sunday's elections.