Grumier strikes gold at the European Fencing Championships
Comments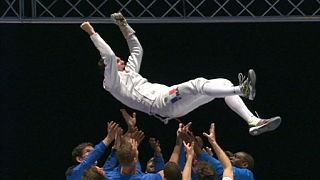 France's Gauthier Grumier kept his composure to edge out local hope Max Heinzer in the individual epée final at the European Fencing Championships in Montreux, Switzerland on Sunday.
The 31-year-old, who took silver at the 2010 World Championships, dominated his opponent from the outset, en route to a convincing 15-12 win.
In the women's sabre event, Sofya Velikaya overcame a nervous start to edge out France's Charlotte Lembach by the narrowest of margins.
The Russian, who placed fourth in the 2008 Beijing Games after losing to Rebecca Ward by one point in the bronze medal match, was 5-1 down in the final before finding her range, earning a hard-fought 15-14 win.
The bronze medals were won by italy's Rossella Gregorio and Ukraine's Olena Voronina.