European ships rescue 4,000 migrants, Italy feels overstretched
Comments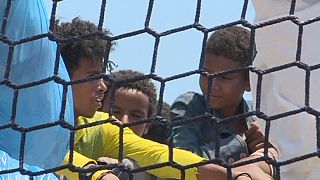 British, Swedish, Spanish and Italian ships are en route to help about 10 migrant boats that called for help this Sunday.
Some 4,000 migrants were rescued in the Mediterranean this weekend alone.
After a shipwreck disaster in April, the EU has increased its rescue operations in the waters between Sicily and Libya, to help people taking advantage of the calm summer seas to attempt the crossing towards Europe.
But the EU is still debating how to handle the migrants once they reach the shore.
Italy, where most migrants land, has called for Europe to agree on quotas, but countries like France and Britain oppose the idea.
Some 50,000 migrants are expected to land in Italy this year – over 10 percent more than last year.
The leaders of three northern Italian regions – Lombardy, Veneto and the Aosta Valley – warned this Sunday their capacities were overstretched and that they would not take in any more migrants.